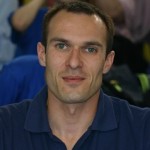 Hello,
I am Christophe Jennequin, i'm 37 years old, and i'm french. I am sports educator specializing in the activity of swimming (BEESAN in France) and i have specialized in aquacycling. I have also trained young sports educators on aquacycling but also the water aerobics, swimming lessons for children, the baby swimmers and coach of elite swimmers.
Why this blog on aquacycling?
I wanted to create this site to give you the information, tools, advice to help you achieve your fitness goals and particularly in the practice of the aquacycling!
During my professional practice, many practitioners were asking me advice, either on the movements or on the function of such exercises or even of nutritional advice.
The book about aquacycling !

I noticed that there was no book on the aquacycling, in french or in english.
Therefore, I am launched this challenge to writing a book intended both to practitioners and to professionals coaches  of aquacycling.
This book, "Essential of aquacycling", contains 164 pages, in 21 x 15 cm format.
So, you can easily carry it with you.
It has been designed with the aim to write the information that I teach during the courses of aquacycling. But also to promote this activity, which has many benefits.
Sportingly,
Christophe JENNEQUIN